Over 35 years in construction has produced countless accolades for Dave, and now for Big Dog Construction Services. Below is a sampling.
Wow, Rhonda, what a productive and great day here today! Thank you! Everyone was on time, thorough, and efficient. Wonderful teamwork! Tom was excellent as was Korban and the plumbers. Ricardo, bless him, magically cleaned up our daughter's bathtub. What a difference a few days make! Only problem is that our parrot, Rosie, is now in love with Tom and is still whistling for him. Even though a lot if it was hard for our autistic daughter, everyone was taking care to accommodate her special needs. That is heartwarming and appreciated very much by us., Maureen and Javier Reyes, Coral Springs
New loft built by Big Dog Construction Services — the workpersonship is spot on. They use top quality subs. Who clean up every day. We lived in our house and cooked every morning and night while they added a ceiling to my kitchen with the floor in the loft over ahead. They removed our stairs and put in new safer ones too. Also relocated the pantry and A/C. Thanks Dave, Rhonda, Joe and crew!, Lori Parrish, Southwest Ranches
We've been working with Dave and Rhonda from Big Dog Construction Services for most of the Southwest Airlines project at Fort Lauderdale Hollywood International Airport. They provide semi-skilled and skilled workers for various general trades work including clean-up, escort for unbadged workers and support for work back charged to other subcontractors.  They performed admirably, despite the inevitable last minute emergencies and "curve balls" thrown at them. Rhonda has been especially organized providing the manpower and documentation necessary to keep things moving.  We look forward to working with the Big Dog team again soon!, Jack Newgent,  Cost Control Manager, AECOM/Hunt
I worked with Dave Rosenof and Big Dog Construction Services during the renovation and concrete restoration project at Kirkland House – 100 Worth Avenue, Palm Beach.  While Dave was originally hired by a third party to help oversee the contractors doing the work, we worked extremely well together ensuring the quality and efficiency of the work while working around some of the highest level of finishes around.  Dave offered great suggestions regarding costing, contract issues and constructability.  I look forward to the prospect of working together soon., Elaine Gunnoe, Manager, Kirkland House
We look forward to working with Big Dog Construction Services as our CBE/SBE partner on the new FAT Village Affordable House Project in Fort Lauderdale.  We are confident that Kaufman Lynn's experience in this market combined with Dave's skills and know will ensure a successful project for all the stakeholders!, Ryan Reiter, Director of Government Relations, Kaufman Lynn Construction
When I finally decided to renovate my kitchen, I was very fortunate to contract with a general contractor with the unlikely name of Big Dog.  Big Dog made the entire five-week renovation process painless.  Their professional staff defied all the perceived norms—they arrived on time, met all the deadlines, used highly skilled sub-contractors, left the building site clean at the end of the day, and ultimately created a final product that exceeded my expectations.  Thanks to the team at Big Dog I now have a beautiful 21st century kitchen.
I would recommend Big Dog Construction Services to anyone who wants quality work done by highly skilled professionals who deal with the micro and macro issues of construction.  
An essential member of the construction team was the project manager on my job, Rhonda Rosenof.  She is knowledgeable, accessible, available for consultation 24x7 and is the ultimate professional.,  Shelly Spivack, Hollywood
I have had the pleasure to work with Big Dog Construction twice so far, and each time they have proven to be both knowledgeable and professional to the highest degree. David and Rhonda do not only make themselves available to address any questions or concerns, but also take the time to address them thoughtfully and thoroughly. Their work is spectacular due in no small part to a detail oriented team. I will be recommending Big Dog Construction in the future., John Williams, Owner's Representative
I came across Big Dog Construction Services after seeing their quality work at the Marina Offices on Williams Island, Aventura.
I met David a few days later and realized immediately what a knowledgeable and experienced professional he was, and that he was going to be a great fit for a new project I was going to start two months later. By the end of our meeting, I realized that the GC that was hired for my current project with the same client had already caused many serious setbacks that impacted the permits, timeline and ultimately my reputation!
David and Rhonda visited the site of the current project the very next day, on a late Friday night. They came prepared with a scope of work and schedules that they had drafted in less than 24 hours. I was so impressed by their professionalism that I had resorted to a move every designer tries to avoid—I terminated the contract with the GC on the current project a month before its scheduled completion. In one day, I fired one GC and hired BDCSI for what would ultimately be two projects.
After week one, I knew I found the right company and that I was going to be in good hands. It wasn't just their quality of work, attention to details, experience and problem solving, but especially the concern and care for the site at any moment of the day. My reputation with that client was saved because of the Big Dog team.
David often guides me through situations where I need assistance in finding solutions, always staying calm and patient. He makes himself available regardless of weekends or holidays, and he is first to respond in a emergency situation.
Nine months after we met, and just weeks from completing the second project with Big Dog, I can't say enough how grateful I am for everything Big Dog has done for my clients, my projects and myself. I couldn't have delivered the beautiful and perfectly crafted work that I wanted for my clients if it hadn't been for the quality of work Big Dog stands for every single time.
I am excited at all that we have achieved together and for my client, and looking forward to working with the Big Dog Family on many projects to come., Bianca Boie, Bianca Boie Interiors
Big Dog is a big deal - the real deal! They exceeded my expectations in identifying and repairing a complicated ceiling leak without a hint of any work having been done. The job required two stories of scaffolding, removing my eight layer Art Deco chandelier and putting it all back together flawlessly.  Dave and the Big Dog crew did a wonderful job for me!  Everyone involved was professional, neat and a pleasure to have in my home. What a great company - old fashioned work ethic with reliable pros! Thanks for a job well done. I'm a fan. I highly recommend them for projects big or small., Sandy Baker, Ft. Lauderdale
      I have known David Rosenof professionally and personally since January 1998 when I represented SMS as the Assistant General Manager of what is now the BB&T Center. David served as Project Manager for the general contractor. For the last nine months of construction and the following two years of operation we were in frequent contact about the operator's perspectives and needs. David was genuinely interested in understanding those operational needs and where possible making sure they were satisfied.
      When I was sent to Houston as the Director of Operations for what is now NRA Stadium, Convention Center, Arena and Astrodome, David always answered my calls for expert advice and assistance on construction and renovation projects.
      After being appointed Director of Operations of the Greater Fort Lauderdale/Broward County Convention Center I continued to rely on David for that same expert advice and assistance for over 10 years because I knew I could rely on his extensive construction knowledge involving large projects, project planning and management experience, understanding of arena and convention center operational considerations and unquestioned personal and professional integrity.
      I am pleased to recommend David Rosenof and Big Dog Construction Services for any project that requires the skills and qualities described above.  Jerry Braud, Former Director of Operations, Greater Fort Lauderdale/Broward County Convention Center
We have now had Big Dog Construction Services out to do a third project at our home and we were just as impressed with their work as we were on the previous jobs.  Everyone on their team has been professional, knowledgeable, and courteous and the quality of their work has been excellent.  We would not hesitate to recommend Dave and Rhonda to any of our friends or clients., Michael Agnoli, Partner and Director of Design, Robert Swedroe, Architects & Planners, AIA, PA
We couldn't be happier with our new Dockmaster's Office at the Williams Island Marina!  Dave and Big Dog Construction Services have been a pleasure to deal with.  Through the various changes and inevitable issues in any construction project, Dave always kept his "eye on the prize" and delivered an exceptional product.  I highly recommend Dave and his team., Scott Huizenga, Owner, Williams Island Marina
Big Dog Construction Services is the perfect company to work with.  They scheduled the estimate within days of my first call, had the contract out to me shortly after and were very nice about my counter proposals and revisions.  The crew arrived on time the day they were scheduled and worked efficiently during the entire project.  They were very good at picking up all the scraps, nails, etc. and my home never looked as if it were in the midst of construction.  One small spot was overlooked after I had signed off for the completion of the project and the crew was back out the day after I called about it to take care of it--now that's truly service! I will be calling on their services again! Natalie Bigio, Lighthouse Point
 Jaime Engelman, Boca Raton
I deal with many people each day in the course of running my companies. It is refreshing to come across people like Dave and Rhonda Rosenof. Not only do they work with honesty and integrity, but they have demonstrated over and over their willingness to go the extra mile. Their ability to work through difficult situations and quickly develop alternative plans when required has made them vital members of our team.  It is rare to find a contractor with the breadth of knowledge and experience that Dave has especially when it is also accompanied by the personality to make any building project as pleasurable as possible., Seymour Holtzman, Renowned Entrepreneur, Sholtzman.com
As Owner of Lush Salon in Boca Raton, I enthusiastically endorse Dave Rosenof and his crew at Big Dog Construction Services. The buildout they did at Lush Salon was timely, of the highest quality and gave us great value for our money. We appreciate the design suggestions during the process and Dave's flexibility as we changed finishes to optimize the look and function of the Spa. We look forward to working with Big Dog again soon! Nicole DeBehnke, Lush Salon
Dave Rosenof is the magician who made it all happen, with additional challenges of working with tenant coordinators in a condominium, delivery conditions that were a nightmare, and subcontractors that tested his patience beyond his Zen being., Bonnie Muxo, Design Momentum
We are absolutely thrilled with the magic your team of experts, Rick and Joe, performed on our kitchen and bar makeover. They are wonderful artists- their work and professionalism goes unmatched. Faced with some critical challenges, their creativity and passion for the work saved the day. Thank you all very much for your efforts. Please know we recommend you highly., Robin and Michael Shane, Parkland Residents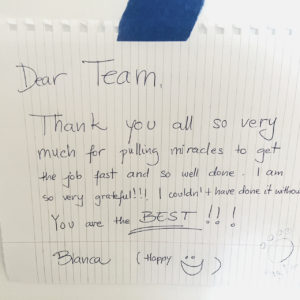 Bianca Boie, Owner, Bianca Boie Interiors
We are so very happy with our construction job. Can't thank you enough for your assistance in getting it done as quickly, neatly and perfectly as possible. We are believers and will be back. Great workers, organization and reliability., Laurie Plotnick, Parkland Resident
What sets David apart from (and above) other contractors I have used is that he is not only skilled, but also unfailingly professional and personable. Their foreman, Joe, was respectful, polite and patient working in a house with a big dog and small children. Dave and Rhonda were a pleasure to deal with. I enthusiastically recommend Big Dog Construction Services and look forward to working with them again in the future., Evan Nierman, Founder, Red Banyan Group
Integrity, experience, craftsmanship! I love working with David and his team. He is a very "hands on" high-end builder and is knowledgeable in all aspects of construction. He stays on top of his projects and works within budgets and timelines like nobody's business. The tradespeople that he hires are equally qualified. His competence and professionalism puts everyone at ease. David is an all-round nice guy. I recommend him highly and look forward to working with him for years to come., Leila Mancini, Mancini Design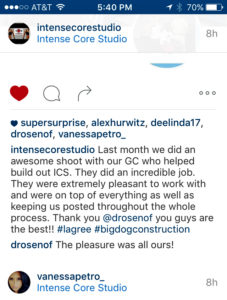 Vanessa Petro, Owner, Intense Core Studio
… organized, efficient, a good communicator and a team player. He seemed comfortable in a leadership role, and was assertive yet considerate in directing and managing colleagues., Harry Ragan, Owner, JLRD
… extremely efficient, effective and organized manager of the project. He works autonomously managing each detail to ensure the project flows smoothly to completion., Bonnie Miskel, Owner, Siegel Lipman et. al.
… ability to see both the big picture while simultaneously staying on top of the details to make sure clients' goals are exceeded—the right mix of high level vision and critical path problem solving to keep things moving along … excellent communicator and listener., Mike Davila, President, JLRD
 … high level approach ensures the projects he manages are executed in a manner that is successful for both the customer and the company. He is a great team member and provided valuable insights from his 30+ years of experience in the construction industry. He is an excellent resource to have on any team., Kalvin Kwan, Energy Engineer, Siemens
… will be a valuable addition to any company. I have known David for over two years during which time he was the project manager for several Siemens projects. I was consistently impressed with David's knowledge and management skills on the projects he ran. David has also been very effective in his efforts to complete the projects on schedule and within the budget. David's projects produced a high volume of work while maintaining high standards and safety. Mr. Rosenof takes initiative to go beyond the expected parameters of his job., Marcus Riggins, President, MARS Contracting
Dave always responded in a timely manner with manpower, equipment and the know how to deal with any size problems. Further, his ability to negotiate with our insurance company, as well as perform the final repairs makes him a valuable asset to our building., Sherry Espido, Property Manager-Marquis Miami, KW Property Management & Consulting
 David is the consummate professional who as an executive clearly knows how to drive bottom line results for his Company. He is visionary in his thinking and communicates very effectively to guide and motivate his team., Robert Morando, formerly VP- Client Services, Right Management
 Not only is Dave a highly trained professional, but his leadership skills make him one of the best executives in the construction business. He is a tough negotiator with an extremely high level of integrity., David Santo, Business Development Manager, formerly of Johnson Controls, Inc.
David is strategic, knowledgeable and a terrific motivator. He inspires both innovation and true craftsmanship…David defines 'effective' – in construction, in marketing and with people., Linda Lewis, Partner, Smith & Knibbs, Inc.
…very knowledgeable about the business of construction. He has a unique perspective, bringing real world experience to solve problems and achieve success for his clients., Gary Brown, Partner; Chair of Construction Litigation Practice Group, Weiss Serota Helfman Pastoriza Cole & Boniske, P.L.
 His knowledge, acumen, and experience in this profession created an environment of success, cost effectiveness, and compliance with code as well as a schedule for construction. A consummate professional., Christopher Cotler, Former Director, City of Sunrise Building & Code Enforcement Dept.
 It has been my pleasure to work with David on large commercial building projects – his intelligence, diligence and professionalism make him stand out from the rest. He has taken complicated issues and clearly stated his objectives while working towards a common goal—to reach a fair, equitable resolution., Kim Dodd, Senior General Adjuster, The Hartford
 David's attention to detail and cutting through all the red tape is instrumental in keeping the projects on target and having all the team members work together efficiently., Viviana Franyie, Owner, Franyie Engineers, Inc.
Weitzer's interests were diligently protected by Dave throughout the construction process., Samuel De Leon, VP, CHM Structural Engineers LLC
 David is the type of client that a professional consulting firm loves to work for. He is diligent in ensuring that you are provided all the needed information, etc. to meet your contract requirements; he is a very effective communicator; and as everyone knows, construction never goes perfectly, but David was always able to keep everything and everyone on track with his realistic and problem solving mindset. David is a true professional and a leader in our industry., Randall Bagwell, President & CEO, NOVA Engineering and Environmental LLC
Dave is a true professional, navigating his way through difficult time frames and high expectations. …I enjoy working with him because of his positive attitude, knowledge and integrity., Yair Daiksel, Owner, DQM CORP
 David is a true professional in every way. My dealings with him were often controversial but David handled it well and in the end was fair. He was always very focused on the bottom line, project quality and the schedule., Gary H Elzweig, PE, Owner, CAPRI
 Dave excelled at coordinating the efforts of all teams/contractors. Of particular note was his responsiveness, availability, and his communication abilities…he is extremely thorough and doesn't miss a single detail., Alan Murrell, Manager – Telecom, Centex Corporation
David is a go-getter. He will do what it takes to get the job done, a true professional!, Jacqueline Fermin, Office Manager, Assistant Corporate Secretary, Centex Rooney Construction Co.
 It is an achievement for which you can be extremely proud for its quality, speed of construction and cost savings… It is a credit to your leadership, workmanship and team effort…You did this while keeping an impossible schedule, minimizing cost through donations and sales tax savings as well as working with the neighbors, government officials, architects, teachers, students and staff., Reverend Vincent T. Kelly, Supervising Principal, St. Thomas Aquinas High School
David possesses a great combination of critical thinking skills and interpersonal abilities and can relate well to a wide range of people. David is a team builder and terrific project facilitator, as comfortable engaging officers in the boardroom as workers in the field., Steve Kuhn, Preconstruction Manager, Centex Rooney Construction Company
He has a keen understanding of the operational aspects of construction and uses that knowledge to continually improve and streamline procedures. In addition to his operational experience, David brings a high degree of integrity, analytical ability and complex problem solving skills., Bruce Moldow, former Executive VP/General Counsel, Centex Rooney Construction Co., Inc.
David is a detail orientated project manager, he was always fair and reasonable and we found him very good at considering all the issues when resolving conflicts in drawings and timing of work., Chuck Frost, V.P., Division Nine Interiors, Inc.
 What impressed me the most was David's intelligence and problem solving skills. Besides that, he always had a positive viewpoint i.e. a can-do mindset for getting tasks done or solving issues., Larry Casey, MBA, LEED AP, CPSM, former Senior Vice President Sales and Marketing, Centex Construction
Dave is the ultimate professional bringing customer service to a new level in the construction and real estate development business. His attention to detail, accessibility, and willingness to go "the extra mile" made it a pleasure to work with him on projects., Bruce Miller, Customer Sponsor, Asst. Vice President, EXXCEL Contract Management
David is a loyal individual who has been my inspiration for balancing the priorities of family and workplace. His creativity in the construction industry is refreshing. His long term vision provides him tremendous opportunity to strategically align operational issues. He knows how to influence the entire team to be successful., Douglas Kaiser, LEED® AP, Project Manager, EXXCEL Project Management
I have found Dave to be a man of integrity, honesty and competence., Jeffrey J. Smith, Chief Financial Officer, Wexner Investment Company
Dave is a dedicated professional who brings honesty, integrity, intelligence and thoroughness to his job. We have enjoyed dealing with him as he embodies the work ethic we value in our employees., Emeric Wigand, Jr., Executive Vice President, Wigand Architectural Woodwork
Dave illustrated a superior knowledge of all facets of the construction industry…He was able to coordinate an extremely complicated construction phasing schedule, yet keep the project within budgets for both myself as a contractor and the project owner. Dave's organizational skills came to light during a myriad of value engineering ideas, project bulletins and change orders. These numerous changes were clear and concise and Dave was able to present cost-saving ideas to the owner as well as improve the overall value of the project., Mark H. Fenwick, Columbus Regional Manager, Cincinnati Floor Company
Dave has been a "self-starter" on all aspects of work that have been given to him. The selection of the millwork contractor is a good example of Dave's ability to prequalify, bid and negotiate a contract. He has carried through to having finished millwork installed on the project.  His decision making process has been sound in identifying the problem, listing the options, and recommending a solution to either the subcontractor or fellow employee. He has been well received and respected by his fellow employees., Walt Betley, Vice President, Setterlin Construction Company
 Thank you for your interest and all your hard work on the Cincinnati Symphony Orchestra summer home., Michael Graves, Owner, Michael Graves Design