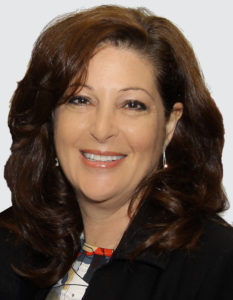 Rhonda Rosenof is the CCO (Chief Canine Officer) at Big Dog Construction Services.
Rhonda's entree into construction in 2014 marked the beginning of a new "fork" in the road on her well-traveled path. While Dave ensures the quality of the work in the field, Rhonda tirelessly works behind the scenes. Rhonda's experience in training, information technology, project management and marketing enable her to effectively manage the back office functions.
Rhonda is responsible for hiring and training, managing and scheduling employees and subcontractors, estimating and proposals, project management, as well as lead management and marketing.
Building on her expertise in education and training, Rhonda is now spearheading "Big Dog U," a comprehensive training and development program for our employees.
Prior to BDCSI, Rhonda spent twelve years as senior sales executive at the Life family of magazines, Parkland/Coral Springs Life, Coconut Creek Life and BocaDelray Life.
Rhonda began her appreciation for the power of computer technology more than 30 years ago. In the mid-80's she evaluated educational materials and developed specifications for converting paper-based content to online learning for Knight Ridder newspaper's Viewtron service, a pioneer in online services. The service was suspended after just a couple of years when a lack of enthusiasm for the service led to a prediction that computers would not be a threat to print newspapers!
After leaving Viewtron, Rhonda moved to Ohio to become Technical Training Manager at CompuServe, another early online service provider. She designed and delivered self-study and instructor-led courses, trained instructors and coordinated personal computer and technical training programs.
Rhonda spent ten years as Program Director for national conferences on the topics of technology and training. These large-scale, feature-intensive events boasted over 3,500 yearly attendees, 17 program tracks and more than 300 educational sessions per year.
She then moved on to e-Commerce where she wore an extensive range of "hats" for an e-Commerce development company and collaborated with clients to build their web-based businesses.
Rhonda's love for technology and process improvement has led her to develop enterprise database systems and procedures that have optimized operations everywhere that she has worked, including now at Big Dog Construction Services.
Rhonda's community involvement has included service on the Executive Board of the Parkland YMCA, as a Girl Scout Leader, Vice President of Color Guard at Marjory Stoneman Douglas High School, and on a variety of committees at Congregation Kol Tikvah.
Rhonda is a member of the Parkland Coral Springs Business Group (PCBG) where she has serves on the planning committee for their annual "Kick Back and Give Back" networking and fundraising event. As a key contributor to this effort since the first event in 2014, she has helped to raise more than $30,000 for local charities.
Rhonda holds a B.S. in Learning Disabilities and an M.S. in Computer Education.